Paris is a place I will always hold incredibly close to my heart. There are SO many things to do in Paris making it difficult to fine-tune your wish list of what to see and experience. From authentic cuisine to the very best views for Instagram-worthy snaps, a fashionista's paradise and the art-buff's haven, my list will fill you with inspiration for your trip. '11 things to do in Paris' just covers a few of my favourite things to do from experience but they're simply things you can't miss! Wisely spend your time in this beautiful city by reading through my guide of 11 ultimate things to do in Paris… Whether you're visiting for a week or a weekend, get a serious dose of culture with these things you absolutely MUST do in Paris!
AVENUE DES Champs-Élysées
Stroll along the Champs-Élysées, gazing into all of the shop windows. Explore the arrondissements and you'll discover Louis Vuitton, SEPHORA, Banana Republic and more. One of the most hailed shopping destinations in the world, Paris boasts a healthy mix of high street chains and big-name boutiques. Treat yourself or just do some daydreaming along these streets!
L'Arc de Triomphe
One of my favourite things to do in Paris is climbing to the top of the L'Arc de Triomphe for an incredible view of the Champs-Élysées streets below. The roundabout below is one of the most chaotic on the planet (with insurance companies voiding all policies and enforcing a 50/50 split for any crashes which occur here). This spot is also a brilliant vantage spot for looking out towards the Eiffel Tower. When the weather is clear, you'll have a great opportunity to snap some Instagram-worthy photos from here.
experience the metro
Ride the Metro (and giggle at the tannoy system pronouncing the station names with an incredibly French accent). It's so easy to forget you're not just on the London Underground until the tannoy kicks in and you suddenly remember!
snack like a true parisian
Stop for a 'croissant and coffee' breakfast facing outwards like a true Parisian. Apparently, it's quite a European 'thing' to sit outside a café facing the street. I personally love that idea as it means you can just watch the world go by whilst people-watching (a favourite pastime many of us indulge in, I'm sure!).
get a culture boost at the louvre
Be sure to visit the Louvre gallery and spot the Mona Lisa. Full of gold-clad halls and walls full to the brim with masterpieces, you can wander for hours in this gallery. The grounds of the Louvre gallery includes the iconic, prism structures with pretty fountains making for a peaceful place to rest your legs before tackling the next hotspot.
The Basilica of the Sacred Heart
Climb the steps up to the Sacre-Coeur. Head up all of the flights of stairs and you'll be rewarded with yet another lovely view of Paris from the balcony. Bonus points if you get a snap from the bottom of the stairs of the beautiful architecture.
learn from the natives
Hop in a taxi with a native-speaking French driver. Ours knew all of the best places, recommended a lunch spot and was a lovely, zany lady speaking English very well. As with every city, there are plenty of rickshaw tuktuks waiting outside landmarks to whizz you to your destination but I much prefer to chat with a local in the confines of a Parisian taxi.
a dazzling light show at an unmissable landmark
Head to the Eiffel Tower in time for the sparkling light show. You can catch the Illuminations every evening. It sparkles for 5 minutes each hour, on the hour and is SO beautiful. It's breathtaking how everyone stands still, united and transfixed by the sparkling before carrying on with their lives.
fine cuisine with an incredible view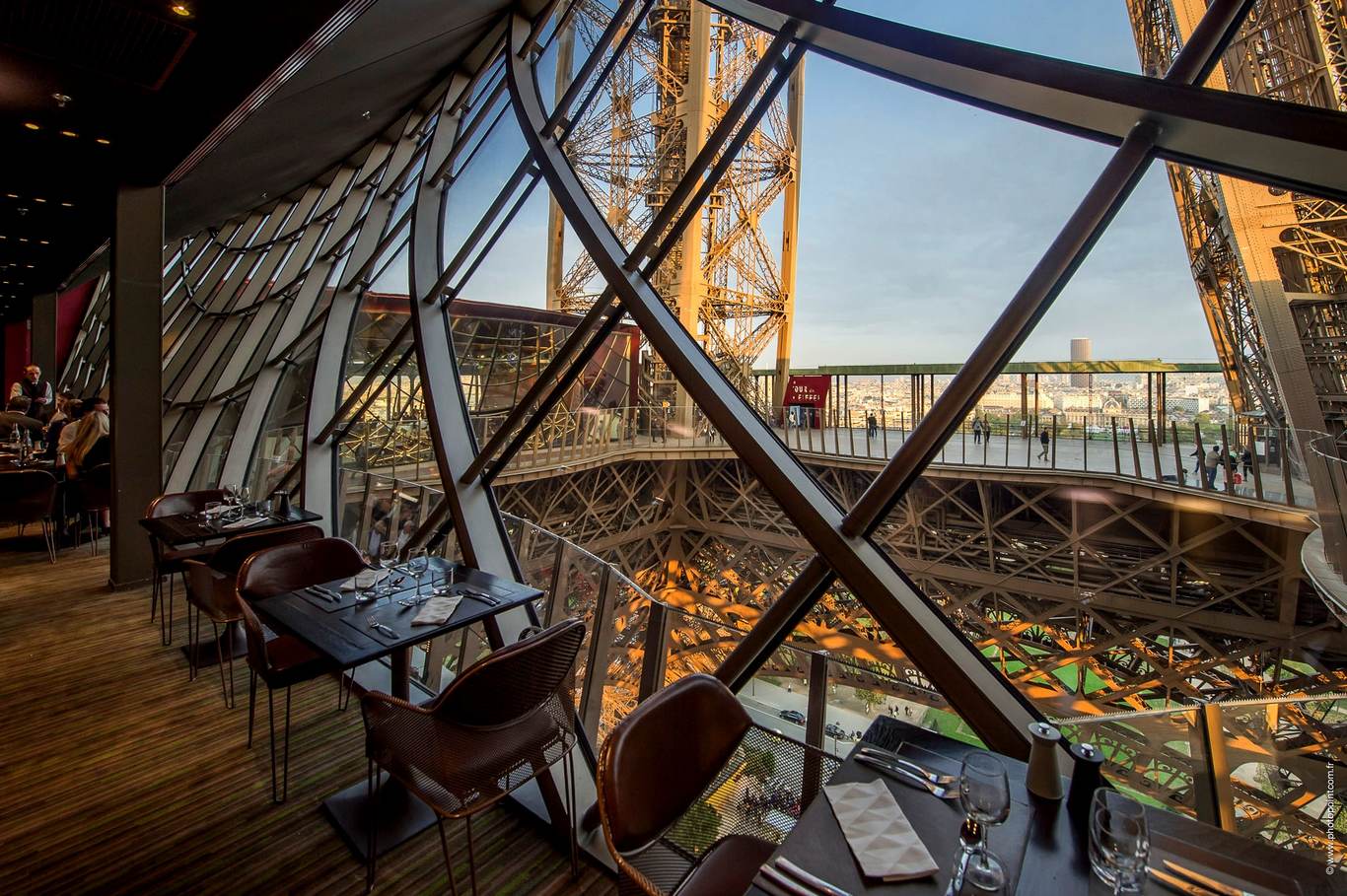 Source
Pre-book your tickets, whizz up the tower in the diagonal elevator and dine at the top. We enjoyed an incredible dinner at Restaurant 58 in the Eiffel Tower with unforgettable views from within the structure looking out onto Paris. The dessert was delicious and we've still not been able to recreate it nor find something even remotely similar!
Out on the water
Take a boat ride along the river to soak up the sights from a completely different aspect. There's a peaceful stillness whilst you're cruising along the water. If your boat has little headphones with tour guide information playing, take advantage of them and be sure to listen out for all the historical facts. There's something really special about going for a boat cruise in the evening. Seeing Paris at night-time is a very different experience to the buzz during the day so give it a try!
dine like a local
Order something entirely authentic for dinner. I went for the French Onion soup in a lovely little restaurant which was INCREDIBLE. You simply can't go wrong with a genuine Parisian restaurant if you're after real, French food. When you compare it to some of the imitation high-street chains in Britain, you'll never want to go back to a "fake" pain au chocolat or a rubbish croque back home!
I hope you are now inspired and ready to visit Paris to experience all of the sights. If you're still stuck for things to do in Paris, I've got another guide coming up very soon so keep an eye out! You can also read my ultimate guide to exploring London with ease for another city culture fix. If you head to any of the places I mentioned, be sure to let me know! If you know of some gems I should discover, leave me a comment below. What do you simply HAVE to do when you're in Paris? What is now on your list of things to do in Paris?